Renaissance Festival
Every year I try to get out to the Renaissance Festival with friends. I believe it is something that everyone should go to at least once if you live in Minnesota. Its just a fun event for all ages and it gives you an excuse to dress up as a princes even if your twenty. I love it!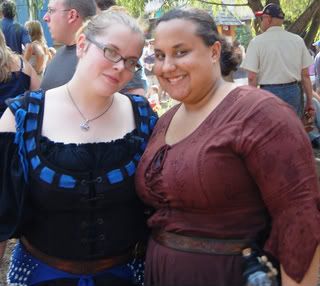 Well This year Kristen and I decided to go together; which is a first for use. It was actually the first time Kristen had gone (that she could remember). Our roommate Katelyn also came along. It was all together a very nice trip.
While we were out there we of course bought tons of fun and pretty things. I was especially in love with the headbands that Kristen and Katelyn got. so this is how it happen, we were walking along, kind of lost if I say so myself. And this girl stops Kristen and asked if she could see how this headband looked on her. Of course Kristen agreed to be adorned in shines; as well as Katelyn. It's funny you can tell when someone is a wonderful sales person cause they make you feel like it was your idea.
I also got the cutest glass bottle to add to my growing custom. I saw it and I had to have it. I guess I can tell you the story behind it. Our good friend Kitty had always been creative; well recently she started making these bottles that have leather wrapped at the top and they can be hung from your belt or displayed with fun things in them. Whichever suites your fancy. Well most of them have been tall and skinny. When we showed up at Old Susana's, the shop that she is selling them at I saw this one and fell in love with it. I am always one to get something that looks like it has a belly; I find stuff like that adorable. So I had to have it and now I do so all is right with the world.
Spending money wasn't all we did. For as many times as I have gone I was not aware that they had a place called the secret garden. It was rather pretty to tell you the truth. Though I don't advise anyone to attempt the exhibit in slippery shoes it may be come hazardous. Any way, we all thought that it would be a great place to take a few picture; well it was mostly me who thought that. And I was right there were tones of little houses set back in the woods. it made you feel like you were going to visit gnomes or something equally as small.
My favorite part of the whole thing was this little pound that had a water fall. I am a sucker for pretty water landscaping. If i could have a waterfall in the middle of my living room I would make it happen. It was cute, there was a little boy throwing change in when we happen upon it. Yep it was my favorite part of the day, next to the turkey legs which is a whole different story.
I was very correct about this garden being a perfect place for pictures I took this when we were at the water fall. I love how it turned out. All and all we had a great time. It is something that we are planning on doing every year. well for as long as we are in the area. I would have to say that Kristen is hooked which is good since it would suck to be the only one that was entertained.